About the Journal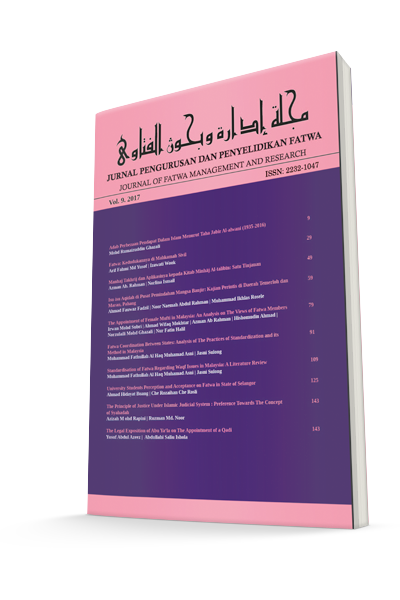 JURNAL PENGURUSAN DAN PENYELIDIKAN FATWA (JFATWA) is a refereed journal published by Penerbit USIM and managed by Institute of Fatwa and Halal (IFFAH), Universiti Sains Islam Malaysia (USIM). The main objective of its publication is to provide an appropriate channel for information and research publication, seminar papers, case studies and book reviews related to fatwa and halal based on original research and ideas by the respective authors.
Starting from 1st January 2022, JFATWA will be published triennial, specifically in the month of January, May, and September. All published articles are open access and freely available online and our goal is to ensure the articles are published as immediately as possible, subject to applicable quality controls.
Authors are welcome to submit original contributions (written in Bahasa Melayu, English and Arabic) which have never been published or considered for publication by any other publishers through the online submission system. The electronic manuscript submissions can be uploaded via https://jfatwa.usim.edu.my/index.php/jfatwa/submission/wizard
A one-time article processing charge (APC) of RM 250.00 is payable upon editorial acceptance and prior to publication.
Indexed in:
Current Issue
Vol. 28 No. 3 (2023): Sept Issue
Articles
Total Views: 17 | Total Downloads: 8

Total Views: 10 | Total Downloads: 6

Total Views: 5 | Total Downloads: 7

Total Views: 2 | Total Downloads: 3

Total Views: 40 | Total Downloads: 16

Total Views: 1 | Total Downloads: 3

Total Views: 16 | Total Downloads: 15
View All Issues